Lange Nacht der Wissenschaften 2022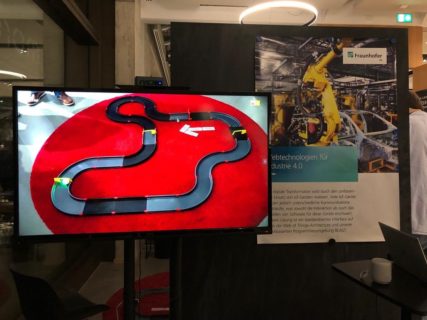 On Saturday, May 21, 2022, the chair participated in the Lange Nacht der Wissenschaften in the Nuremberg Metropolitan Region. At the Lange Nacht, regional universities, research institutions, and companies present future technologies for interested parties.  
In collaboration with the Fraunhofer IIS department Data Spaces and IoT Solutions, the chair presented BLAST: Block Applications for Things. BLAST is a browser-based block editor and execution environment that enables users to create software for various Internet of Things (IoT) devices using the Web of Things interface. Creating software that interacts with IoT devices from different manufacturers is challenging for users in smart homes and industrial environments. With BLAST, this problem is simplified as each device has a standardized Web of Things interface, and software can be written in a visual programming language. 
 The demonstration invited visitors to compete in robot ball racing and interactive introductions to BLAST, where everyone could create simple programs.